THE HIGH COST OF ISLAND RESORTS
Developments in Phuket deny local fisherman access to protected fishing waters
Bangkok Post 20 Nov 2008
By ANCHALEE KONGRUT
Hame Tinkohyao, a 58-year-old fisherman, did not look at all excited when our boat glided past the stunningly beautiful rock caves and islands in the Andaman Sea. The well-weathered fisherman says he's seen this area hundreds and thousands of times.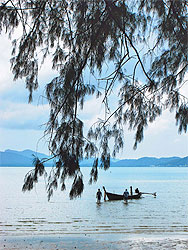 "I can remember every beach and every rock cave here. I can clearly visualise them with my eyes closed," said Uncle Hame. And he was not bragging. As many tourists may consider the pristine Koh Yao Yai in Phangnga Bay of Phangnga province a paradise island, for Uncle Hame, it is his birthplace and source of livelihood.
"In the old days, the rock caves were adorned with orchids. Nowadays, much of the stalactites and stalagmites are broken because of tourists ... and many orchids have been stolen," the fisherman added, sighing.

In front of us was Koh Naka - a very beautiful island that will soon be the location for a six-star resort. Uncle Hame says the island just got a new local nickname. "The local fishermen here call it Koh Resort (Island of resorts)," he said, with a cynical laugh. He pointed to another famous island, Koh Raet, which too will become the location of an expensive residential resort and recreational yacht marinas - being developed by Jumeirah - a real-estate development group famous for its palm-shape island and sail-boat-like shape high-rise in Dubai.
"Almost every island outside the national park territory will become a Koh Resort," he said, with worry.
Hame Tinkohyao, 58, a local fishermen living
in Ban Ya Mee, on Koh Yao Yai in Phangnga Bay.

 

The islands and beaches in the Andaman Sea have long been used and shared by local villagers.
His remark reflects the concerns of local fishermen towards unchecked property development that have invaded in almost every nook and cranny of pristine beaches and islands in Phuket and in the Andaman Sea.  
These developments obstruct local fisheries and deny the fishermen access to the beaches and rich ecology they so heavily depend on.
"We usually quarrel with deep sea fishing boats that use destructive fishing gear to catch fish and destroy the sea grass and coral reefs. But I can assure you ... dealing with big fishing boats is far easier than dealing with property developers. Because you can chase them [fishing boats] out of the three-kilometre fishing zone reserved by law for local fishermen. But we don't know how to deal with expensive developers," shared Uncle Hame. For him, the real threat comes from yacht marinas, which are popping up like mushrooms all over Phuket Island and other islands in the Andaman Sea.
For instance, Jumeirah - a real-estate development firm from United Arab Emirates - will build a residential resort and a private marina on Koh Raet that will contain 120 to 400 million baht units. A six-star resort on Koh Maphrao is being built by a development company from the UK. Ratan Tata - an Indian steel tycoon - will build Taj Exotic, a high-end residential resort that will be sold for 128 to 384 million baht per unit.
The marinas are considered a must for wealthy buyers who feel it is troublesome to go to a shared marina by car.
The locals' concern with marinas and developers was recently highlighted at the Assembly of Fisher Folks in Phuket. The conference was organised by a network of small-scale fishery communities in the southern provinces of Thailand.
"If the construction of marinas affects the local marine ecology, the livelihoods of the fishermen will also be severely affected," said Supaporn Anuchiracheeva, programme coordinator of Oxfam, an international non-governmental organisation that advocates sustainable development.
The construction of marinas, she says, involves sand dredging, which destroys the sea bed; a vital commodity that is tantamount to fertile soil used for farming. Subsequently, the locals will find it difficult to access the local beaches and bays. It is a common practice among hotel and resort projects to put fences around their properties; many of them openly discourage local fishermen to fish near their bays.
What's brewing is a new form of a natural resource war, which the poor will most likely lose, given that the government's policy supports the tourism industry.
Currently, there are three recreational marinas in Phuket - Royal Phuket Marina, Boat Laguna and Yacht Heaven - all on the east side of the island.
There are other two developers planning to build private marinas nearby. One of the marinas being constructed belongs to the Yamu. The marina project of the Yamu is facing fierce opposition by the local villagers.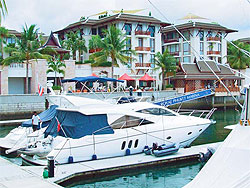 The yacht marina industry is growing in Phuket and on islands in the Andaman Sea.
The problem is the east side of Phuket Island is considered ecologically valuable and the last remaining mangrove forest, which serves as a breeding ground for fish and a storm and wave breaker. The west side of the island, which is famous for its sandy beaches, has already banned any off-shore construction.
The local villagers are fighting back, however. In 2006, the fishing communities near the Yamu project petitioned the National Human Rights Commission (NHRC) to inspect the marina construction there as it falls under the environmentally protected list. A year before, the commission received another petiton from fishing communities on Koh Yao Yai in Phangnga province.
Both cases are alike in that both involve small-scale fishermen living in strong communities that have received many awards from the authorities for their efforts in protecting marine life.
For them, the marina threat is just another war they have to fight to protect their seas.
In 2006, Ban Ya Mee villagers including Uncle Hame closed the bay of Koh Yao Yai for three months. Eventually, the transport authority decided to cancel the construction permit following NHRC's findings that the construction violated the law. There was an investigation of land grabbing conducted by the Department of Special Investigation (also known as the FBI of Thailand).
Although Phuket's governor finally decided to stop the Yamu project, its developer insisted that it would continue the project because it has already received the proper constrution permits.
"We have to build it (marina). We did not break any law and we are willing to comply with every requirement," said Pariyes Rattanadilok Na Phuket, general manager of the Yamu. She says the local villagers' fear was unfounded.
"They can still access the beach and fish there. Indeed, the residents of Yamu will be happy to wake-up and see their presence. They will be able to feel that they live among the local community,"she added.
According to Pariyes, her company built a new road to benefit local fishermen to enter the beach. This once battered public road has been replaced and runs from the project directly to the beach front. Meanwhile, the local villagers will sue the company for taking away public property.
Nalinee Thongtham, the marine ecologist at the Phuket Marine Biological Centre under the Ministry of Natural Resources and Environment, says the construction of these recreational marinas will definitely damage sea ecology.
The construction of marinas, she believes, requires the excavation of the sea bed, caused by sand dredging. Consequently, the sea grass, coral reefs and spawning ground for fish will be scooped out during construction. Sediments during the construction and oil slicks from yachts will damage water quality.
The marine ecology in the east side of Phuket was seriously damaged by destructive fishing gear. But the situation has improved following the locals' mangrove reforestation projects and campaign against destructive fishing.
"Villagers have been helping us to protect marine ecology. The province's policy to allow marina constructions will be equivalent to cheating the villagers. They have worked very long and hard to protect this public property ... only to see it go right into the hands of private investment,"she said.
Nalinee says the marina issue extends beyond the scope of rational science of environment and conservation. "One day, the marinas will be ubiquitous like spikes springing out from durians if the province or the government do not come up with proper regulations," she added.
"The problem is that they see marinas as a booster for tourism and equate world-class tourism with yachting and marinas," she explained.
Those who oppose the project do not hate these luxury marinas, she says. "But there is a need to research real demands, carrying capacity and land zoning," she said.
Wasant Panich, a human rights commissioner, says the current law allows small marinas - less than 500 tonnes - to apply with provincial officials. Developers only conduct an Initial Environmental Examination Report (IEE) to the governor as part of acquiring a construction permit.
Larger marinas need to apply with the Ministry of Natural Resources and conduct an Environmental Impact Assessment (EIA) - a more demanding process.
Currently, the Ministry of Natural Resource and Environment is revising the laws to make it harder for future marina construction. Under this new draft, which is yet to be approved by the cabinet - all marina construction projects must conduct an EIA and be approved by the Ministry of Natural Resources and Environment.
But rights commissioner Wasant Panich does not think the problem will stop with tougher EIA laws. The EIA proves to be ineffective in many development projects because it can be easily manipulated in favour of investors.
He says the province must introduce marina zoning and ban them anywhere near ecologically sensitive areas. For NHRC, he says, marina construction can be seen as a rights violation because it involves conflict of interest between private investors and the local communities over use of commons or public areas.
"These marinas are just recreational facilities. It's about time for the government to estimate the level of destruction impacted by this costly hobby to our natural resources and the lives of local fishermen," said Wasant.
According to the 2008 Collier report, which researched property development in Phuket and Andaman, the marinas have driven-up the cost of property on the east coast of Phuket island - once a cheaper area. Other rivals such as Langawi island of Malaysia will build a luxurious marina for super yachts, to compete with Phuket.
Wasant put a big question mark on the benefit of marinas and high-end real-estate development to the "ordinary" people of Thailand.
"My simple question is where does the money go and who will walk away with the biggest slice of pie?"
Answers vary depending on who is answering the question.
In the economic spectrum, land investors in Phuket are no longer Thais, but expatriates based in Singapore and Hong Kong and international hospitality companies. The new wave of Phuket and Andaman island residents are a melting pot of nationalities, namely UK, Australian, Korean, Russian and Middle Eastern tycoons, according to the Collier report.
For ordinary folk like Uncle Hame, the answer about what matters to him is simple - the seas and their fishing boats.
"These resorts will not let my shabby boats get near their expensive yachts. They might fear that our Rua Thong (local dialect for small fishing boat) will damage these expensive barges.
"One day, these resorts may prevent us to pass their beaches or sail by the bay because of the sputtering noise from our boat engines, which might disturb their residents."